17 June, 2013
Nice little cache library for Nancy
Built a little NancyFX app for a customer where multiple browsers now are pulling the Nancy web app. This tunnels trough to the backend (which is not a regular database) and generates a little too much traffic for IT to be happy.
For a long term solution to this I'm leaning towards SignalR but I haven't quite wrapped my head around it yet. So for a shorter term low effort fix I want to put in some caching in the Nancy-layer. After Googling around a bit I found Nancy.LightningCahce. Looks like a nice syntax with a AsCacheable extension method:
This file contains bidirectional Unicode text that may be interpreted or compiled differently than what appears below. To review, open the file in an editor that reveals hidden Unicode characters. Learn more about bidirectional Unicode characters
When adding Nancy.LightningCache to the solution and adding writing the code according to the Readme everything compiled fine but I got an exception runtime: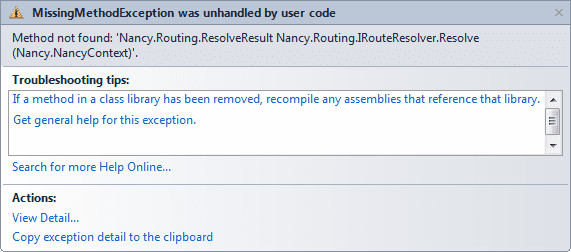 [MissingMethodException: Method not found: 'Nancy.Routing.ResolveReslut Nancy.Routing IRouteResolver.Rresolve(Nancy.NancyContext)] <- For searchability*
After digging a bit I remembered their last commit message on github: "updated to Nancy 0.17.1". What version did I have? 0.16.0. So I updated to 0.17.1 and lo and behold; Bob is your uncle!
---
Tags: .NET Development, Computing