I've been playing around a little with the Pomodoro technique to see if I can increase my productivity (and effectively).
For you that haven't heard about the Pomodoro technique is a way of using an egg timer to focus you're self in 25 minutes intervals. Read more about it at www.pomodorotechnique.com
I'm by no means an expert on the Pomodoro technique, I'm just getting started. But it really appeals to me because I usually have problems focusing at one thing at the time.
What's the first thing I do when starting to get into a new technique? Yep, you guessed it. Check out the tools! So this post won't focus on doing the Pomodoro technique, there's others that does that so much better than me, but on the tools available. I will focus on windows with some mentioning of web and iPhone tools.
I was trying to find a desktop tool to run on Windows 7. I stumbled upon Concentrate of Mac OS and got really jealous. So I started on a little endeavor to se what's available in the Windows world. This is not in any way a complete guide. Just stuff I managed to sniff out.
Windows
Pomodoro – MillSquareSoftware
This pomodoro tool is avaliable at http://www.millsquaresoftware.com/pomodoro.html. It's pretty good. It has a task list that you can work from. I don't think it saves stats on interruptions and such. Visually it's not that appealing. Looks like a small little winforms app which isn't that sexy. But with my limitied testing it does the job.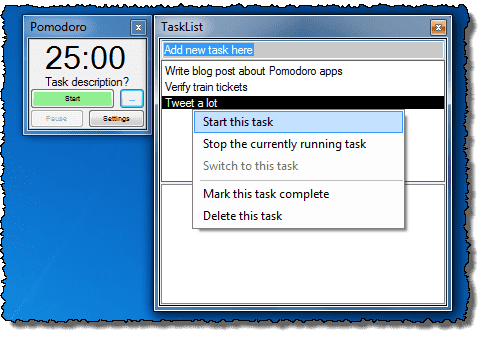 Pomodario
Pomodario is an Adobe Air app that is available for download from http://code.google.com/p/pomodairo/. Somehow very many pomodoro apps seems to be Adobe Air apps. I'm not thrilled about Adobe Air and would rather have something more Windowsiy. That said pomodario is actually my Pomodoro app of choice so far.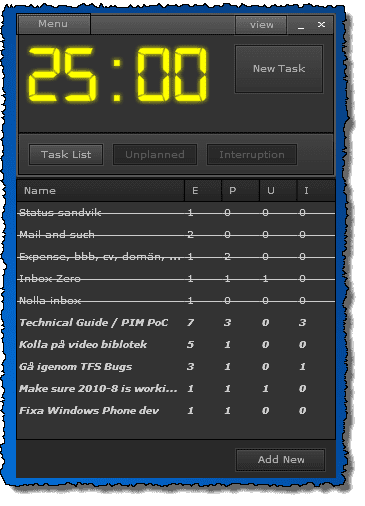 It has a nice interface keeping track of interruptions and such. Remember the first time I tried it I nearly shat myself when the alarm bell went of. Luckily the volume is adjustable. Pomodario also has a nice statistics function.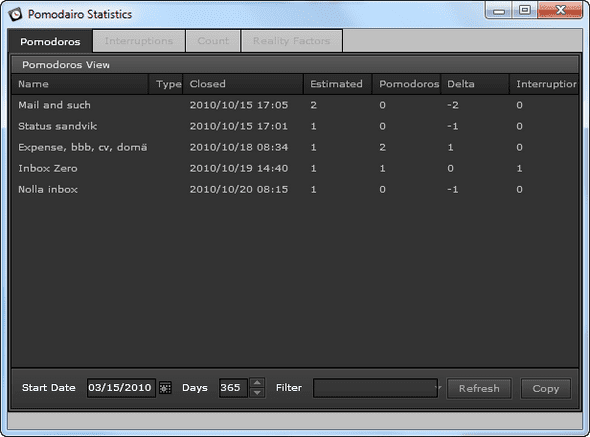 Focus Booster
Focus Boster can be downloaded from http://www.focusboosterapp.com. It two is an Adobe Air app.

They way I understand FocusBooster is that its just the timer, no tasklist, logging of interruptions and such.
Tomatoday
I don't have Tomatoday naild down yet. Seem promesing but unmature. It's a SilverLight app available at http://www.tomatoday.dk/ that can be runned in or out of browser.

It has a task list but that does not seem to be connected to the timer what I can see (but again this can be to my lack of understanding).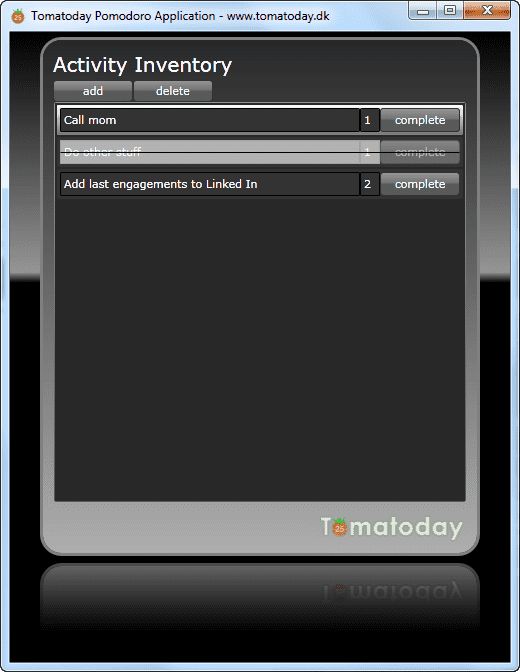 So not I favorite of mine, but I think it might be if development continues.
Dinner Timer
This is not a Pomodoro app per se. But what is a pomodoro but a kitchen timer. So if you do all the other stuff on paper this will probably work fine, haven't tried it myself. Available from http://www.dinnertimer.com/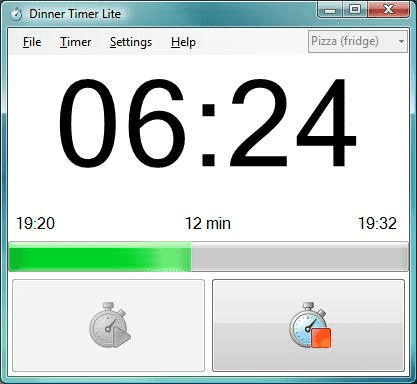 Web
For web the one I found was Tomatoist which is great. But it doesn't work for me. I loose it in a tab somewhere so it becomes more of a distraction than a productivity helper.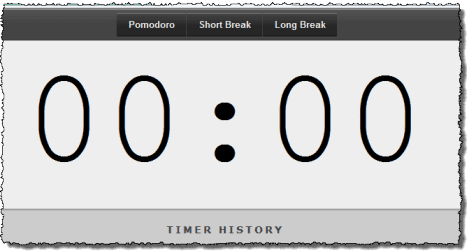 iPhone
There is a lot of options here, the one I've tried and liked the most is myPomodoro Lite. It's pretty good in my opinion, the thing that disturbs me is the single taskness of the iPhone. If you want to change playlist in iPod/Spotify –> the timer pauses.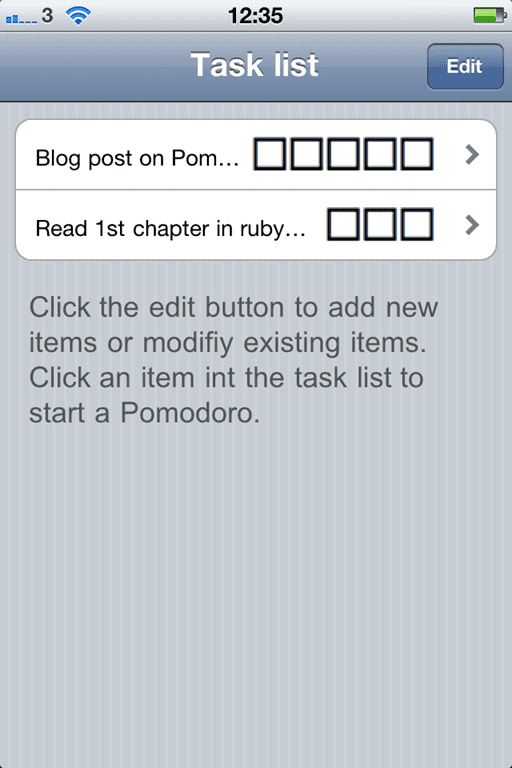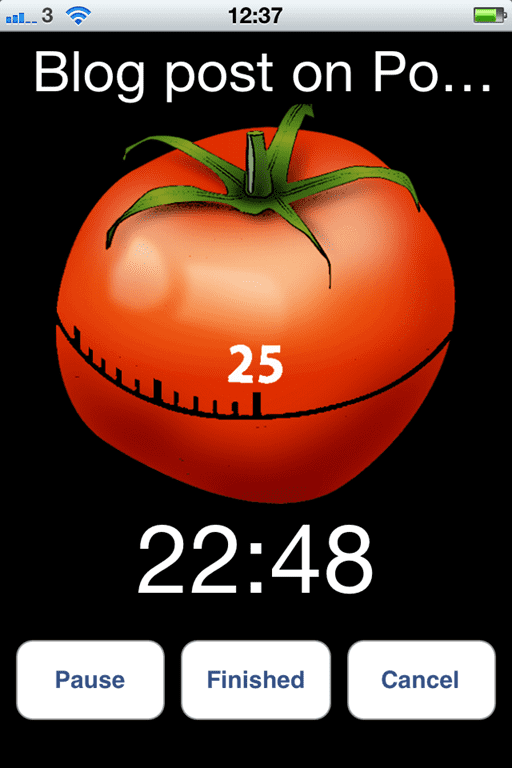 Summary
My favorite so far is Pomodario. It's simple to use and tracks simple statistics. Do you have any other favorites?