05 September, 2013
Exploring It!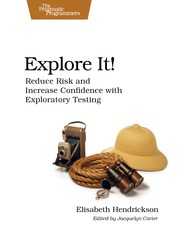 Read the book Explore It!: Reduce Risk and Increase Confidence with Exploratory Testing by Elisabeth Hendrickson during the summer. All in all it was a pretty good, fast read. Only 160 pages – which was really compelling to me not being a tester just wanting to broaden my horizons a little.
For me it wasn't a awesome read but it gave me some insights and manifested my belief that test should be involved from the get go in a project. Which is something you also find in writing about Specification By Example.
My absolutely biggest chock when reading this book is that there actually are testers out there who knows what the data type int is and its boundaries. I'm sad to say I have not met those testers.
---
Tags: Computing